What a difference a week can make to our English weather. No more balmy rides like last week; instead a 19° drop in temperature for Graham as he set out from Ickleton in -4°C at the unearthly hour of 7.30am in order to reach the start in Moulton by 9.30am. And the result? A frozen water bottle, as above, and probably other frozen bits as well. At least his face was well protected.
Meeting at The Packhorse Inn provided a chance of seeing that splendid sight of racehorses being exercised on Newmarket Heath in the crisp, frosty, sunny weather with steam pouring from the nostrils of both the horses and riders.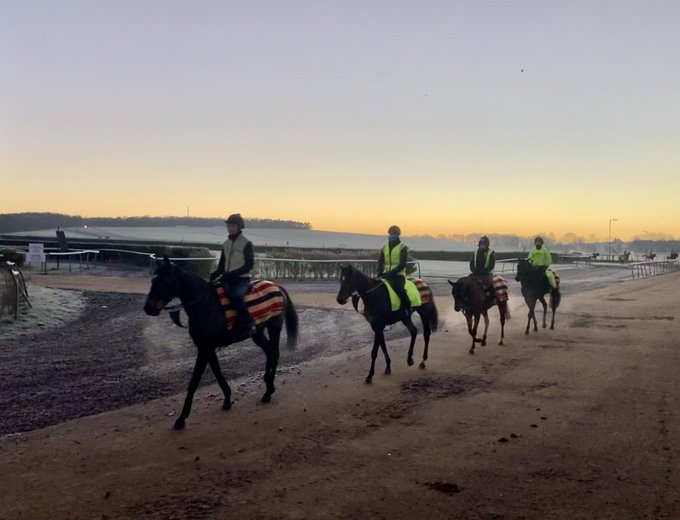 The Packhorse Inn staff provided good coffee whilst orders were being placed for lunch but it was still -1°C when Group A led by Maurice set off, followed by Andrew's Group B and then Martin bringing up the rear with Group C – 15 Windmillers in all, the others being birthday-boy Victor, Alan, Brian, Rod, Sandra, Hazel, Tom, Ken, Roger, Howard and Deborah. Charles was to join us later for lunch along with Suzanne who cycled up from Abington with her son Peter.
This is where we went, the first hill out of Moulton being a warm-up bastardo:
There was some hesitancy about the conditions but, as it turned out, the roads were mainly open and dry with only a few icy patches which were easy to spot. The main problem was keeping warm but two layers around the extremities seemed to do the trick, not to mention the hills.
Maurice's route took us through some lovely Suffolk lanes and rolling countryside with fine views. There were only a couple of his famous dead ends but at one point Andrew's group was completely foxed as to whether to head up a no through road or continue on bike route no. 51. A phone call to Maurice and the appearence of Group C soon got them heading in the right direction. There's a new book just published called Wayfinding: The Art and Science of How We Find and Lose Our Way, which might make a good prize for the 2022 Not the Navigator award at the Christmas lunch.
More coffee was dispensed at The Plough in Rede, whose warm welcome filtered through to still-cold extremities for some but by the time we left the temperature had crept above freezing level.
The return leg took us through more villages including Dalham where a fascinating looking building was spotted next to the road.
Groups B&C intermingled a bit on the way back, culminating with a fast descent down to the bridge at Moulton, said by a local dog walker to only take the weight of four people, for the traditional photo call:
The Packhorse Inn did us proud at lunch, giving us exclusive use of a banquet-style dining room with a long table set out with a seating plan containing the names of those who were dining, or so it seemed. Who was Dedra, for example, and who was Morris? They weren't members, surely? And Andy can't surely be Andrew? But, yes, it was only a few misspelt names by the staff, and given his love of cars wouldn't Maurice prefer to be called Morris from now on?
The room also provided us with the space to sing a hearty Happy Birthday to Victor, who very kindly bought the drinks. Thanks Victor! We look forward to more birthdays being celebrated during the year, with yours truly's being next – so roll up, roll up for the 13th.
The seating plan:
It was surprising to see how popular beetroot and chips was, or beetroot and truffle chips in the case of Sandra who clearly has expensive tastes, but, for some, beetroot was just another name, for example, for spare rib of beef. But the kitchen seemed to get the message ok and the food was very tasty, albeit not terribly filling after a long ride (and yet another long ride home for Graham, accompanied by Suzanne as far as Abington).
Victor receiving a cheque from Morris, sorry Maurice, for £500 for Marie Curie
And here is the assembled gathering:
Thanks to Maurice for this memorably cold ride, to Andrew for organising us and to photographers, Hazel and Graham.
Martin